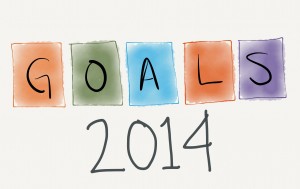 Last year I wrote about the need to go back to the basics before setting goals. This time I just want to suggest five very simple strategies for making your goals last beyond January (hopefully all year long):
Only set one or two – Better to succeed at one or two than to fail at five. Focus!
Make it important. Tie your goal to something that

really

matters to you and you'll be more likely to stick with it.
Be specific. How will you know you've met the goal unless you are very specific.
Make it public – share them with someone who can effectively help you be accountable.
Keep score – Find an easy way to keep track of what you're trying to do. You get what you measure.
Please share other simple strategies that have worked for you and Happy 2014!!